The Recruitment Process Outsourcing Association (RPOA) is proud to announce 2021 Women in RPO award award recipients.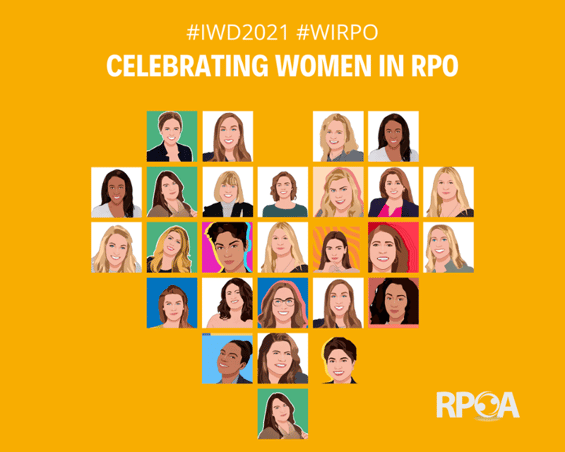 Women in all industries, including staffing and recruiting lack recognition and growth opportunities, according to a 2020 study conducted by ClearlyRated. "Celebrating women's achievements and increasing visibility, while calling out inequality, is key," according to the International Women's Day website.
The Influential Woman and the Rising Woman in RPO awards are introduced by the RPOA to recognize women in RPO who make a difference in the life of their organizations, their teams, and their clients.
A total of 26 women representing 14 different organizations were nominated by their peers, with 18 women recognized as influential women in RPO, and 5 as rising women in RPO. The RPOA recognized 5 special women for their contributions to the RPO industry and the RPO association.
The 2021 Influential Women in RPO award recipients are:
Katherine Rose with Jobcase, Pam Verhoff with Advanced RPO, Amie Hibbins with LevelUp, Taylor Bradley with Orion Talent, Jennifer Spicher with LevelUp, Brianna Schumacher with Hueman RPO, Jennifer Cooper with Hueman RPO, Sarah Palmer with Hueman RPO, Kim Mumma with ADP RPO, Laura Turner with Jobcase, Natalie Denton with Orion Talent, Rachel Ward with Orion Talent, Julie Rightmyer with Advanced RPO, Angela Hood with ThisWay Global, Paula Antonelli with IBM, Lynne Marie Finn with Broadleaf Results, Kim Pope with WilsonHCG, and Theresa Amatore with ADP RPO.
The 2021 Rising Women in RPO award recipients are:
Tanya Cohen with Advanced RPO, Nicole Isom with Hueman RPO, Hilary Jarman with Hueman RPO, Alexis Phillips with Orion Talent, and Chass Rice with endevis.
RPOA Super Star Award Recipients
The following women were recognized for their outstanding contributions to the Recruitment Process Outsourcing Association (RPOA) and the RPO industry the association serves.
For the past few years, these women brought their exceptional leadership skills to elevate the RPOA and shape the programs we offer.
They are passionate about RPO and the impact it has on organizations seeking to reach their highest potential through their people. They reach outside their organization into the bigger RPO ecosystem to elevate the entire industry, supporting RPOA's mission.
The RPOA has made big strides in being the place to go for RPO over the last few years thanks to the commitment and contributions of these women, and for that, they are well-deserved of the RPOA Super Star award.
Thank you...
Cynthia Cohen with Mynt Consultants, Pam Verhoff with Advanced RPO, Patty Silbert with Newton Talent, Erin Peterson with People Results, Kim Pope with WilsonHCG.
Click here to view all recipients and the recognition they received.